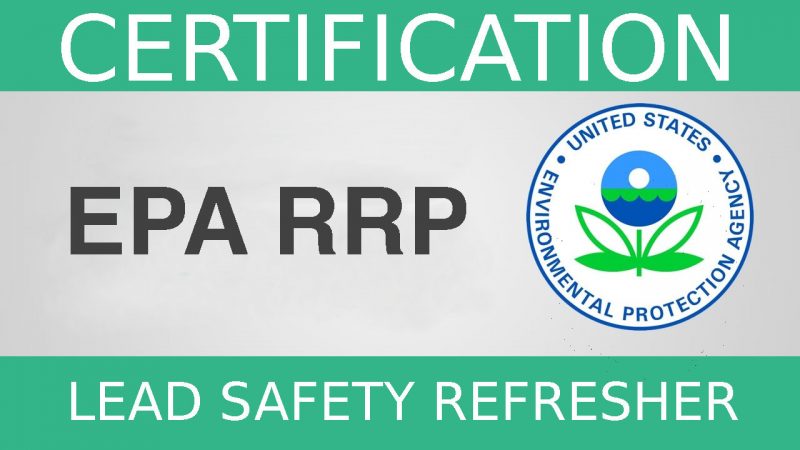 Renovator On-Line Refresher [Part #1] – English
Course Description
Welcome to
[video_lightbox_youtube video_id="xZW0AMJ042g" width="960″ height="540″ anchor="WATCH VIDEO ON HOW TO REGISTER" class="wpe-button wpe-button-green"]
EPA's Certified Renovator On-Line Refresher Training Course-
Lead Safety for Renovation, Repair, and Painting
This is the Online Refresher Course for Certified Renovators without hands-on that will certify you for an additional 3 years from course completion.
 You must be aware that you'll be required to take a refresher with hands-on for the next certification.
 The certificate received after completed Exam will contain the expiration date.
 If you work in any of the following states, you CANNOT take the online version of this course –   training must be done IN-PERSON: AL, DE, GA, IA, KS, MA, MS, NC, OK, RI, UT, or WI.
The prerequisite for this refresher is that you have completed the Initial Certified Renovator course less than 5 years ago.
 You are required to upload your former certificate, certificate number and a photo during registration for EPA to keep you as a registered certified renovator.

Proceed
Course Curriculum
Instructions

Introduction

Module 1 Regulations

Lead Safety – Regulations | Knowledge Check

Module 2 Testing for Lead-based paint

Lead Safety – Testing for Lead-based Paint | Knowledge Check

Module 3 Review of Setup Practices

Lead Safety – Review of Setup Practices | Knowledge Check

Module 4 Review of Prohibited Practices, Personal Protective Equipment, and Dust Control

Lead Safety – Review of Prohibited Practices, Personal Protective Equipment, and Dust Control | Knowledge Check

Module 5 Cleaning Activities and Checking Your Work

Cleaning Activities and Checking Your Work | Knowledge Check, 5

Module 6 Recordkeeping

Recordkeeping | Knowledge Check

Module 7 Training Non-Certified Renovators

Training Non-Certified Renovation Workers | Knowledge Check, 7